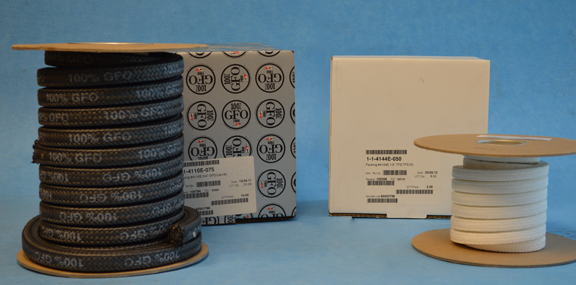 Braided Packing Materials for Pumps and Valves
Mechanical packing is used for pumps and valves in order to control leakage of all types of  fluids. It is used throughout industry where temperature, application, and pressure can vary between equipment. MPRC supplies  mechanical packing for centrifugal or reciprocating pumps and valves.
We supply packings made from low end flax, jute, cotton yarns, various forms of PTFE (Polytetrafluoroethylene), carbon, and graphite fibers and tapes. We can make mandrel and die-formed rings that are specific to your requirements, or supply the packings on 1, 5, 10, 25, and 50-lb. spools, depending on your needs. Our packings can handle extreme temperatures, ranging from -450ºF to over 5,000ºF, as well as pH levels that range from 0 to 14. Call MPRC for all your packing needs. Our technicians can help you improve your workflow and minimize production halts by finding the best packing solution for your equipment.